When it comes to affordable shopping for furniture and household items, many people consider thrift stores as their go-to destination. Goodwill, a well-known charitable organization, is often recognized for its thrift stores.
In this article, we will explore whether Goodwill sells furniture in the USA and what you can expect when shopping for it. Goodwill is a nonprofit organization with a mission to help individuals with barriers to employment find meaningful work.
While its primary focus is on workforce development, Goodwill also operates retail stores. These stores sell donated items, including clothing, electronics, home goods, and furniture.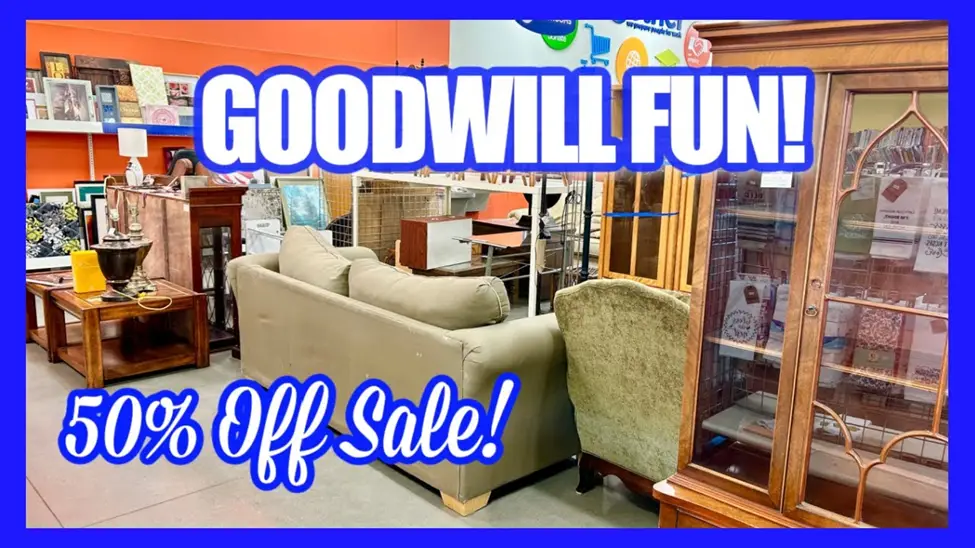 Does Goodwill Sell Furniture?
Yes, Goodwill stores in the USA do sell furniture. When you visit a Goodwill store, you will find a dedicated section for furniture. This section includes a variety of items, such as couches, chairs, tables, dressers, and more. It's important to note that the selection and availability of furniture can vary from one store to another.
What is Goodwill?
Goodwill was founded in 1902 by Reverend Edgar J. Helms in Boston, Massachusetts. Over the years, it has grown into a network of independent, community-based organizations operating in the United States and Canada.
Goodwill's work revolves around the belief that everyone deserves the chance to live independently and work competitively.
The Goodwill Mission
The core mission of Goodwill is to enhance the dignity and quality of life of individuals and families by eliminating barriers to opportunity. Goodwill provides job training and career services, helping people secure employment and build self-sufficiency.
Goodwill's Role in the Community
Goodwill plays a significant role in communities by supporting the employment needs of diverse individuals.
They operate job training centers, career counseling services, and retail stores, which fund their programs.
By donating to or shopping at Goodwill stores, you are indirectly contributing to their community outreach.
Goodwill's Retail Operations
Goodwill operates thrift stores that are open to the public. These stores stock a wide range of items, which are generously donated by people in the community.
While clothing is a significant part of Goodwill's retail operations, they also offer furniture, electronics, and other household goods.
Shopping for Furniture at Goodwill
Shopping for furniture at Goodwill can be an exciting treasure hunt. You may come across vintage pieces, gently used items, or even brand-new furniture that has been donated. The affordability of Goodwill's furniture is one of the key attractions.
Quality of Furniture at Goodwill
The quality of furniture at Goodwill stores can vary. Some pieces may show signs of wear and tear, while others may be in excellent condition.
It's advisable to inspect items carefully before making a purchase. Goodwill often receives donations from individuals upgrading their furniture, so you can find good-quality pieces at a fraction of the original price.
Pricing and Discounts
Goodwill is known for its competitive pricing. Furniture at Goodwill is typically priced significantly lower than brand-new items at traditional retail stores. Moreover, Goodwill often offers discounts and special sales, making the prices even more affordable.
Benefits of Buying Furniture at Goodwill
Shopping for furniture at Goodwill has several advantages. First, you can save money on essential household items.
Second, by purchasing from Goodwill, you are supporting their mission of helping individuals find employment. Lastly, you contribute to a more sustainable and eco-friendly approach to shopping.
Donating Furniture to Goodwill
In addition to buying furniture, you can also donate your furniture to Goodwill. Donations are a crucial part of their operations, and your contributions help fund their programs.
Donating furniture not only benefits the community but also provides you with a convenient way to declutter and support a good cause.
Sustainability and Eco-Friendly Practices
Goodwill promotes sustainability through recycling and reusing. By purchasing secondhand furniture, you are reducing the demand for new production and helping to minimize waste.
Customer Experiences
Many customers have shared positive experiences when shopping at Goodwill for furniture. From finding unique pieces to scoring great deals, it's no wonder that Goodwill is a popular choice for budget-conscious shoppers.
Conclusion
Goodwill does sell furniture in the USA. Their retail stores offer a diverse selection of furniture items at affordable prices.
By shopping at Goodwill, you not only find budget-friendly furniture but also contribute to a noble cause. Whether you're looking to buy or donate furniture, Goodwill is a reputable and eco-friendly choice.
Frequently Asked Questions
1. Can I find brand-new furniture at Goodwill?
No, Goodwill primarily sells gently used or donated furniture.
2. Are Goodwill's furniture prices negotiable?
Prices at Goodwill are typically fixed, but they often run sales and discount events.
3. Do Goodwill stores offer delivery services for furniture purchases?
Delivery services may vary by location. It's best to check with your local Goodwill store.
4. Are there any warranties on furniture purchased from Goodwill?
Goodwill typically does not offer warranties on their items. Buyers should inspect items thoroughly before purchasing.
5. What happens to furniture that doesn't sell at Goodwill?
Unsold furniture may be marked down or sent to outlet centers, where it's offered at even lower prices.
Also Read: Does Ross Homestore Sell Furniture? [Check The 5 Categories of Furniture Sold]