In the ever-evolving landscape of event ticketing, Ticketmaster stands as a prominent name, serving as a go-to platform for purchasing tickets for various events, concerts, and sports games.
But what if you find yourself unable to attend an event you've already purchased tickets for? Ticket resale comes into play, offering you the option to sell your tickets to someone else.
However, as with any service, there are costs involved. In this article, we will delve into the world of Ticketmaster ticket resale fees and charges in the United States. Let's dive in!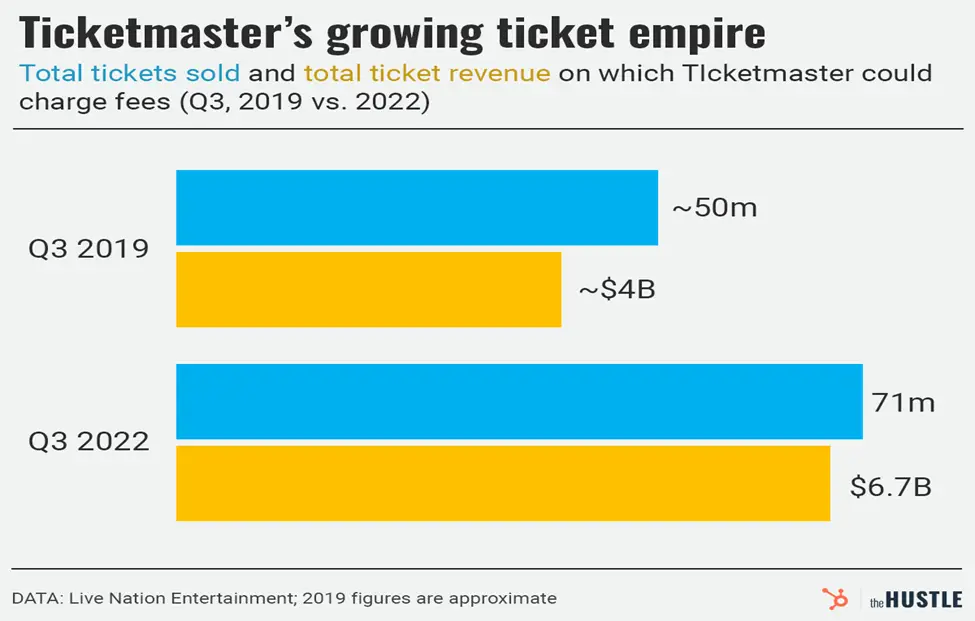 How Much Does Ticketmaster Charge To Resell Tickets?
Ticketmaster charges various fees when reselling a ticket. These fees typically include a commission fee (usually 10% of the listing price), payment processing fee (about 3% of the ticket price), and a listing fee (sometimes free). However, the exact amount for these fees varies depending on factors such as the event, location, and demand for tickets.
It's important to check Ticketmaster's website or contact their customer support for the most up-to-date information on resale fees to ensure transparency in your ticket resale transactions.
Understanding Ticket Resale
Before we get into the nitty-gritty of Ticketmaster's charges, let's first understand what ticket resale entails.
Ticket resale refers to the practice of selling event tickets you no longer need or can't use, typically at a price higher than the original face value. It's a common occurrence when plans change or unexpected circumstances arise.
The Ticketmaster Resale Platform
TheTicketmaster Resale Platform provides a dedicated space for individuals to list and sell their event tickets in the United States. This platform offers a secure marketplace where both ticket sellers and buyers can connect.
When using this service, sellers may encounter a listing fee for posting their tickets for resale.
Additionally, Ticketmaster charges a commission on the final resale price of the tickets, and there are payment processing fees involved in handling the financial transactions.
The Ticketmaster Resale Platform offers convenience but comes with associated fees that sellers should be aware of before using the service.
Listing Your Tickets
When you decide to resell your tickets on Ticketmaster, the process usually starts with listing your tickets on their resale platform. Here's what you need to know:
Ticket Listing Fee: To list your tickets for resale, Ticketmaster may charge you a listing fee. This fee helps cover the administrative costs of managing the resale process.
Setting the Price: As a seller, you have the flexibility to set your ticket's resale price. Keep in mind that pricing your tickets competitively can increase your chances of selling them quickly.
Payment and Fees: Understand the payment process and associated fees, including Ticketmaster's commission on the final resale price and any payment processing fees. These can impact the overall amount you receive.
Ticket Delivery: Be aware of how you'll transfer the tickets to the buyer once sold. Ticketmaster often provides digital delivery options for convenience.
Resale Policies: Familiarize yourself with Ticketmaster's resale policies, including any restrictions or terms and conditions for ticket resale.
Ticket Resale Commission
Beyond the listing fee, Ticketmaster also takes a commission on the final resale price of your tickets. This commission percentage may vary, so it's essential to understand the terms before proceeding with your resale.
The commission is Ticketmaster's way of generating revenue from facilitating the resale process.
Payment Processing Fees
In addition to the commission, Ticketmaster may charge payment processing fees for handling the financial transactions associated with ticket resale.
These fees are typical in most online transactions and are used to cover the cost of payment processing services.
Ticketmaster Fan-to-Fan Exchange
Another option for ticket resale through Ticketmaster is theFan-to-Fan Exchange. This feature allows you to purchase tickets directly from other fans who are selling their tickets for events.
Keep in mind that the fees associated with this option can vary based on the seller's discretion.
How to Use Ticketmaster Fan-to-Fan Exchange
Using Fan-to-Fan Exchange is easy. Simply create an account, search for the event you're interested in, choose your seats, and complete the purchase. Sellers can list their tickets by providing event details and ticket information.
 Tips for a Smooth Transaction
For buyers, act quickly when you find the tickets you want, as they can sell out fast.
Should set a fair price to attract potential buyers.
Always double-check the event details and seating information before making a purchase.
Conclusion
In summary, Ticketmaster offers a platform for ticket resale in the United States, allowing ticket holders to sell their tickets to others. However, this convenience comes at a cost.
Ticketmaster charges listing fees, commissions, and payment processing fees, which can collectively impact the overall price you receive when selling your tickets.
To get the most accurate and up-to-date information on Ticketmaster's resale fees, it's advisable to visit their official website or contact their customer support.