Donatos Pizza has made a name for itself as one of the finest pizza chains in the United States.
The combination of quality ingredients, unique offerings, and a commitment to customer satisfaction has earned Donatos a special place in the hearts of pizza enthusiasts across the nation.
In this article, we will explore what makes Donatos so good and why it stands out in the fiercely competitive pizza industry.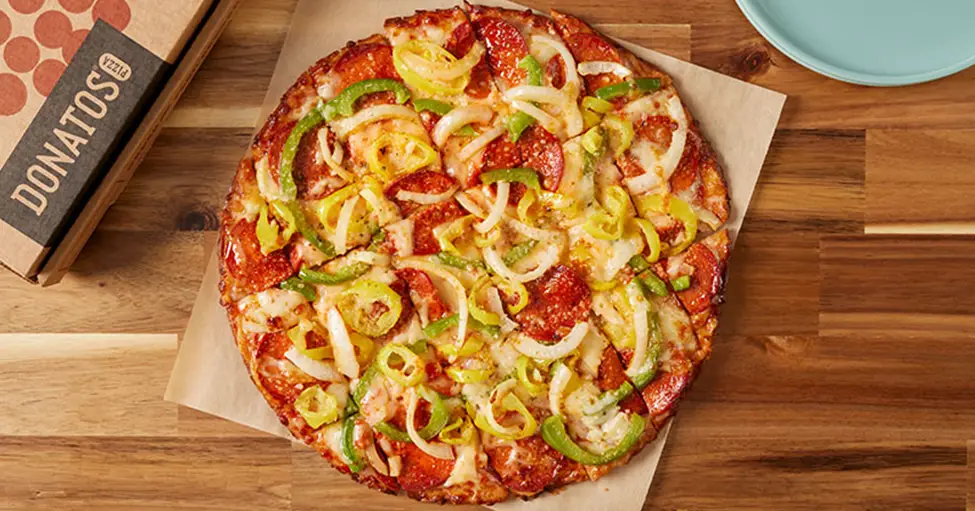 6 Reasons why Donatos is so good
Donatos reputation as a top-tier pizzeria in the U.S lies in using fresh, high-quality ingredients, its signature edge-to-edge toppings that ensure every bite is bursting with flavor, and an unyielding focus on consistency and customer satisfaction.
Beyond just pizza, Donatos offers a warm and inviting dining experience in their restaurants, convenient online ordering and delivery services, and a range of menu items, including healthier options, catering to a diverse array of tastes.
This dedication to excellence, adaptability to changing consumer preferences, and active community engagement have made Donatos a beloved favorite in the competitive world of American pizza.
Donatos Pizza: A Brief Overview
Founded in 1963 in Columbus, Ohio, by Jim Grote, Donatos Pizza started as a small family-owned pizzeria. Over the years, it has grown into a household name, not only in Ohio but throughout the USA. The company's dedication to serving exceptional pizza has been unwavering since its inception.
The Secret Behind Donatos' Delicious Pizza
1. Fresh Ingredients
One of the secrets to Donatos' delectable pizza lies in the use of fresh, high-quality ingredients. The dough is made fresh daily, and their tomato sauce is a proprietary blend of tomatoes and spices. The cheese is 100% pure mozzarella, and the toppings are always fresh and flavorful.
2. Edge-to-Edge Toppings
Donatos takes the concept of topping pizzas to a whole new level. They apply their toppings all the way to the edge of the pizza, ensuring each bite is packed with flavor. This innovation has set them apart from other pizzerias and has become their signature.
The Donatos Experience
1. Restaurant Atmosphere
Donatos not only focuses on delivering exceptional pizza but also on providing an enjoyable dining experience. Their restaurants have a warm and inviting atmosphere, making them an ideal place for family gatherings, parties, or a casual night out.
2. Online Ordering and Delivery
In today's fast-paced world, Donatos has embraced technology by offering online ordering and delivery services. This convenience ensures that their delicious pizza is accessible to everyone, no matter where you are.
Donatos' Commitment to Quality
1. Quality Control
Donatos maintains a rigorous quality control process. Each pizza is prepared with precision to ensure consistency in taste and presentation. This commitment to quality has earned them a loyal customer base.
2. Community Engagement
Donatos actively engages with the communities they serve. They support local events and charities, further solidifying their reputation as a responsible and caring brand.
Donatos: A Nationwide Favorite
Donatos has expanded far beyond Ohio and now operates in multiple states across the USA. Their unique take on pizza has resonated with people from all walks of life, making it a favorite choice for those seeking delicious and unique pizza options.
The Evolution of Donatos
From its humble beginnings to a nationwide phenomenon, Donatos has undergone significant changes. Their continuous growth and adaptation to the evolving tastes of their customers have been pivotal in their success.
Donatos' Special Menu Items
Apart from their classic offerings, Donatos boasts an impressive array of special menu items. These include unique pizzas, subs, salads, and desserts that cater to various tastes, making every visit to Donatos a culinary adventure.
Here's an example of some special menu items from Donatos presented in table form:
| | |
| --- | --- |
| Special Menu Items | Description |
| Pepperoni Pizza Puff | Folded pizza filled with pepperoni, provolone cheese, and pizza sauce, baked until golden and delicious. |
| Chicken Bruschetta Pizza | A unique pizza topped with marinated chicken, fresh bruschetta, garlic, and a blend of cheeses. |
| Big Don Italian Sandwich | Loaded with Italian meats, cheeses, veggies, and Donatos' special dressing, served on artisan bread. |
| Boneless Wings | Tender chicken wings coated in your choice of sauces, from mild to spicy, served with dipping sauce. |
| Harvest Salad | A fresh salad featuring mixed greens, grilled chicken, cranberries, Gorgonzola cheese, and nuts. |
The Donatos Diet
Donatos is not just about indulgence; they also offer healthier options. Their menu includes salads and low-carb pizzas for those looking to enjoy a guilt-free yet delicious meal.
Donatos vs. Other Pizzerias
Donatos' commitment to quality and unique topping style sets it apart from other pizzerias. It's not just a pizza; it's an experience, which is hard to match.
Donatos' Awards and Recognition
Over the years, Donatos has received numerous awards and accolades for its outstanding pizza and service. This recognition further solidifies its position as a top pizza destination.
The Donatos Loyalty Program
Donatos values its customers and has a loyalty program that rewards frequent patrons with discounts and exclusive offers. This program fosters a sense of community among Donatos fans.
The Donatos Franchise Opportunity
For those interested in the pizza business, Donatos offers franchise opportunities. Their proven business model and strong brand recognition make it an attractive option for entrepreneurs.
Donatos' Future Plans
As Donatos continues to thrive, they have ambitious plans for expansion and innovation, ensuring that they remain a favorite choice for pizza lovers nationwide.
Conclusion
In a nation where pizza is a beloved staple, Donatos manages to stand out by consistently delivering exceptional quality and a unique pizza experience.
Their commitment to fresh ingredients, community engagement, and innovation has solidified their position as one of the best pizza chains in the USA.