When you're out on the road, unexpected car troubles can be a major inconvenience. This is where AAA (American Automobile Association) comes to the rescue with its comprehensive roadside assistance program.
One common question that arises in such situations is, "Does AAA cover towing?"
In this guide, we'll delve into the details of AAA's towing coverage, explore the benefits of their membership, and address frequently asked questions to help you navigate through any roadside emergencies smoothly.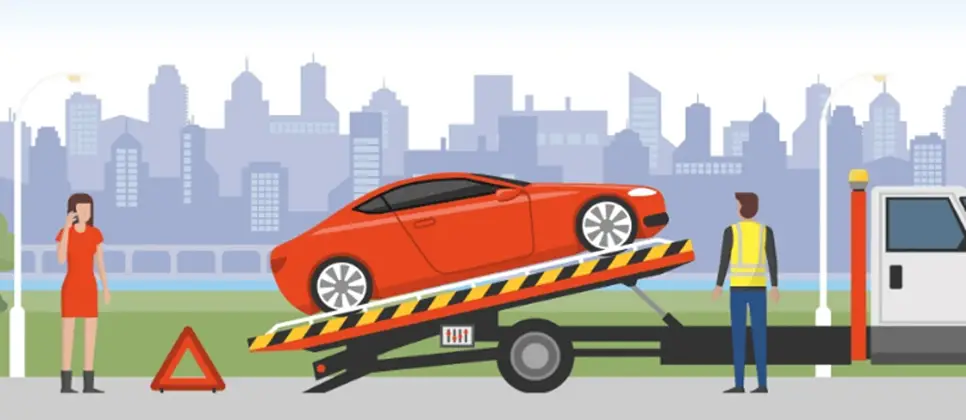 Does AAA Cover Towing?
Yes, AAA does cover towing as part of its roadside assistance program. Whether you're stranded due to a flat tire, dead battery, or engine trouble, AAA has your back. If your vehicle cannot be fixed on the spot, AAA will arrange for a towing service to take your vehicle to the nearest repair facility or a location of your choice.
This service provides invaluable peace of mind, especially when you find yourself stuck on the side of the road in an unfamiliar area.
Remarkably, AAA's roadside assistance coverage typically includes distance considerations for towing services. As part of its basic membership, this distance is 5 miles from your location. For AAA plus plan, the distance is 100 miles while for Premier Plan, the distance goes up to 200 miles.
How Does AAA Towing Coverage Work?
AAA towing coverage is available to members as a part of their membership benefits. The process is straightforward:
Contact AAA: When you're facing car trouble, call the AAA roadside assistance hotline. You'll need to provide your membership details and a brief description of your issue.
Verification: AAA will verify your membership and gather information about your location and the nature of the problem.
Dispatch of Assistance: Based on the information you provide, AAA will dispatch a professional technician to your location. If the issue can't be resolved on-site, towing will be arranged.
Towing Service: Like previously mentioned, if your vehicle cannot be repaired on the spot, AAA will arrange for a tow truck to transport your vehicle to a repair shop, your home, or another location of your choice.
Benefits of AAA Towing Coverage
Enrolling in AAA's roadside assistance program and towing coverage offers numerous benefits:
24/7 Availability: Car troubles don't adhere to a schedule. With AAA, you have access to assistance around the clock, whether it's early morning or late at night.
Nationwide Coverage: AAA's towing coverage extends across the United States, so you're covered no matter where your journey takes you.
Variety of Issues: AAA doesn't just cover towing for major breakdowns; they also assist with minor issues like lockouts, flat tires, and fuel delivery.
Peace of Mind: Knowing that you have a reliable service at your fingertips provides peace of mind during your travels.
Other Roadside Assistance Benefits
24/7 Availability: AAA's assistance is available 24 hours a day, 7 days a week, ensuring that you're never left stranded, no matter the time of day or night.
Variety of Vehicles: AAA's coverage isn't limited to just cars. Whether you're on a motorcycle, driving an RV, or even riding a bicycle, AAA's roadside assistance benefits extend to a wide range of vehicles.
Flat Tire Assistance: If you're faced with a flat tire, AAA can send a technician to your location to either change the flat tire with your spare or provide inflation to get you back on the road safely.
Battery Jump-Start: A dead battery can happen unexpectedly. AAA's technicians can jump-start your vehicle, helping you avoid the inconvenience of waiting for a tow or searching for help.
Fuel Delivery: Running out of fuel is never fun, especially if you're far from a gas station. With AAA, you can request fuel delivery, which will provide you with enough fuel to reach the nearest filling station.
Lockout Service: Accidentally locking yourself out of your vehicle is frustrating, but AAA can quickly send assistance to help you regain access to your car without causing any damage.
Minor Mechanical Repairs: Sometimes, all you need is a minor fix to get back on the road. AAA's technicians can offer limited on-site assistance for minor issues, saving you time and stress.
Extrication and Winching: If your vehicle gets stuck in mud, snow, or a ditch, AAA can provide extrication and winching services to help get your vehicle back on solid ground.
Member Discounts: Beyond roadside assistance, AAA membership often comes with additional perks, such as discounts on car rentals, hotels, attractions, and more.
Trip Interruption Coverage: Should your vehicle break down during a trip, AAA might provide coverage for lodging, meals, and transportation while your vehicle is being repaired.
Emergency Travel Assistance: If you're far from home and encounter unexpected travel issues, AAA can provide guidance and support to help you navigate through the situation.
Additional Family Members: Many AAA memberships allow you to add family members to your coverage, ensuring that your loved ones are also protected while on the road.
Mobile App: AAA's mobile app offers a convenient way to request assistance, track the arrival of the technician, and access other membership benefits right from your smartphone.
These detailed benefits showcase how AAA's membership can be a true lifesaver in various unexpected situations that drivers might encounter on their journeys.
Conclusion
In the realm of roadside assistance, AAA stands as a reliable and dependable partner for travelers and commuters alike.
From covering towing services to providing assistance for a wide array of car troubles, AAA's membership offers invaluable peace of mind. 
So, the next time you wonder, "Does AAA cover towing?" remember that AAA is there to ensure your journey continues smoothly, no matter the unexpected bumps along the way.
Frequently Asked Questions
Is towing available for all types of vehicles?
Yes, AAA covers a wide range of vehicles, including cars, motorcycles, RVs, and even bicycles in some cases.
How far will AAA tow my vehicle?
AAA typically covers up to a certain distance (often 5 to 7 miles) as part of their basic membership. For longer distances, additional fees may apply.
Can I request my vehicle to be towed to a specific repair shop?
Absolutely, you can choose to have your vehicle towed to a repair shop of your choice.
Is there a limit to the number of times I can use AAA towing in a year?
The number of tows covered under your membership depends on the type of membership you have. Basic memberships often provide a limited number of tows per year, while higher-tier memberships offer more flexibility.
What if I'm not the driver of the vehicle but still need towing assistance?
AAA covers the vehicle, so if you're riding in a friend's car and it breaks down, you can use your AAA membership to request assistance.
Can I add family members to my AAA membership for towing benefits?
Many AAA memberships offer the option to add family members to the coverage, ensuring that everyone in your household can benefit from the service.
Related: Does Chase Sapphire Cover Rental Car Insurance? [Updated] 2023